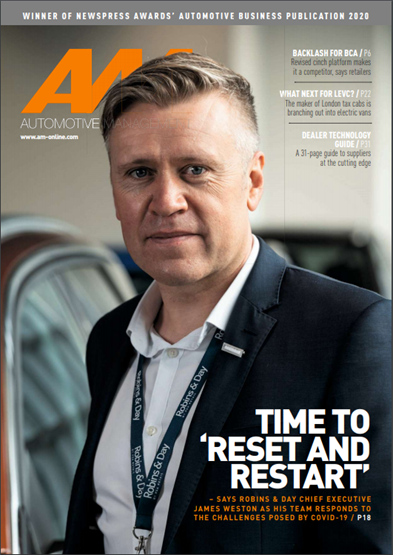 Insights into engine retail technology, new competition in electric van market, dealers' response to Cinch and AM100 group Robins & Day's fight back since lockdown all feature in brand new November 2020 issue of AM mag, open to read today on the net and digital platforms (here).
Dealers and competitors sound frustrations within latest development of Cinch, the web network marketing platform owned by BCA, which markets BCA's cars direct to retail purchasers along with also marketing dealer stock.
We have increased detail on Automotive Management Live Virtual, and headline sponsor RAPID RTC, including how to register ready for the on the web event on December 2-3.
James Weston, chief executive of Robins & Day by PSA Retail, the manufacturer-owned AM100 dealer group, told have always been exclusively just how their management team utilized the COVID lockdown to build up new techniques and ensure its workforce would emerge stronger and much more determined to succeed.
Joerg Hofmann, leader of Britain's electric taxi and van manufacturer LEVC, gave an exclusive meeting to AM where the former Audi administrator contrasted his previous manager's needs for dealer capital opportunities versus LEVC's modest needs of "what is actually had a need to fix a vehicle and obtain a minimum brand recognition".
In a third exclusive, former Peter Vardy and Lookers senior professional Cameron Wade, now handling director of technology firm Silver Bullet, covers exactly how on line sales provides the cost per purchase down for dealerships which will still remain a key element of that product sales process.
There's a 36-page Dealer Technology Guide within the brand new problem of AM, spanning from lead administration to remarketing.
It's time for motor shopping to address men's psychological state, based on the industry veterans behind new organisations Menable and Automotive Minds which tell AM they will mentor business leaders to open up the conversation around anxiety, despair and compulsive behaviours.
More engine shopping executives discuss the way they're overcoming challenges in a recently available virtual round table, which we report on here.
Rygor Commercials executive Chris Marsh talks about encouraging his group and smoothing the process of vehicle repair and components supply.
Also keep in mind our monthly Guess The Car competition, with a chance to win a John Lewis voucher.
Editor's Page
Following the lull of second quarter this year, hasn't quarter four turned into a race for everybody? The pressure is onto finish the year since highly as you are able to and keep that confidence sustained into 2021 once we all constantly adapt to the changing limitations.
To keep you inspired and up currently with the latest most useful training, and to assist you to see just what your peers have now been around, AM has two virtual activities planned for November and December, which you'll manage to get on from your own Computer or phone.
Firstly, there'll be a webinar because of this year's AM100 on November 18, in association with BDO, in which we'll expose the most recent styles and highlights of UK's biggest engine retailers. Information on how to sign up for this will be on AM-online soon.
Next, on December 2 and 3 we're keeping Automotive Management Live Virtual. There'll be 20 insightful speakers plus exhibitors to meet up with on our hi-tech, interactive, digital exhibition platform and you'll have the ability to download brochures, view videos and attend real time Q&A sessions with skillfully developed. See web page xx for lots more details.
I've missed seeing a lot of you at industry dinners and seminars, so ideally I'll see you – virtually – at those two.